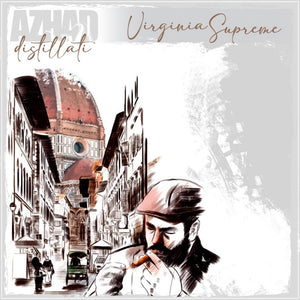 Azhad's Elixirs
Virginia Supreme - Distillati
Regular price
€15,12
Sale price
€16,80
Unit price
per
Tax included.
Shipping
calculated at checkout.
Simple and classic Virginia, in this blend claims its place of honor: seven different qualities of Virginia tobacco, from blond to red, combined and supported by expert touches of oriental, Turkish, Macedonian and Syrian. Everything to accentuate and embellish the Virginia which fully expresses its incredible potential in this aroma.
20ml flavors in 60ml chubby gorilla bottle
Virginia Supreme, like the entire Distillati range of Azhad's Elixirs is a tobacco distillate. It does not require a steep.
The Distillati range of Azhad's Elixirs is a clean range, which can be vaped on any type of material, clearomizers and pods included.
Examples of dosage:
for 0mg of nicotine, add 40ml of base in 30pg/70vg

for 3mg of nicotine, add 1 nicotine booster 20mg in 30pg/70vg and 30ml base in 30pg/70vg

for 6mg of nicotine, add 2 nicotine boosters 20mg in 30pg/70vg and 20ml base in 30pg/70vg

for 9mg of nicotine, add 3 nicotine boosters 20mg in 30pg/70vg and 10ml base in 30pg/70vg

for 12mg of nicotine, add 4 nicotine boosters 20mg in 30pg/70vg
---
Share this Product
---