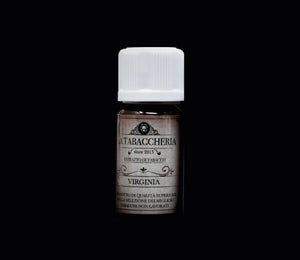 La Tabaccheria
Virginia - Estratto di Tabacco
Regular price
€9,81
Sale price
€10,90
Unit price
per
Tax included.
Shipping
calculated at checkout.
This variety began to be cultivated in America after the War of 1812 in Ohio, Pennsylvania and Maryland, although this tobacco has only landed on the market since 1839. Virginia is the most cultivated tobacco in the world , it belongs to the "flue-cured" (cured with hot air) and is characterized by a lighter leaf than other types of tobacco.
It dominates in almost all cigarette blends and most pipe blends. Virginia Tobacco Extract is a great vaping companion any time of the day.
Mild and sweet taste.

The Virginia, like the entire Estratto di Tabacco range from La Tabaccheria, is a classic aroma, called dirty, to be vaped only on reconstructable material. It does not require any particular steep.
Contains 10ml of pure flavor in 100pg.
Recommended dilution at 10%.
Dosage examples:
for 0mg of nicotine, add 90ml of base in 30pg/70vg
for 3mg of nicotine, add 1.5 nicotine booster 20mg in 30pg/70vg and 75ml base in 30pg/70vg
for 6mg of nicotine, add 3 nicotine boosters 20mg in 30pg/70vg and 60ml base in 30pg/70vg
for 9mg of nicotine, add 4.5 nicotine boosters 20mg in 30pg/70vg and 45ml base in 30pg/70vg
for 12mg of nicotine, add 6 nicotine boosters 20mg in 30pg/70vg and 30ml base in 30pg/70vg
for 15mg of nicotine, add 7.5 nicotine boosters 20mg in 30pg/70vg and 15ml base in 30pg/70vg
for 18mg of nicotine, add 9 nicotine boosters 20mg in 30pg/70vg
---
Share this Product
---