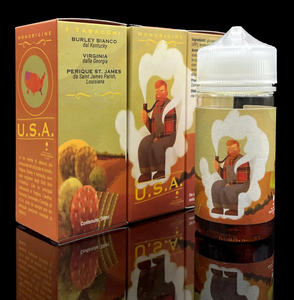 The Vaping Gentlemen Club
U.S.A. - Monorigine
Regular price
€17,01
Sale price
€18,90
Unit price
per
Tax included.
Shipping
calculated at checkout.
The United States of America is one of the undisputed homelands of tobacco, which saw the birth of many of its most famous varieties in these lands. Our taste and olfactory story starts from Georgia Virginia, a mature Virginia that expresses itself with all its warm flavors from the first moments, with hints of honey, sweet and delicate, almost like acacia honey. A rich, saturated tobacco born from fertile, sun-drenched soil. White Burley from Kentucky, on the other hand, imparts typical tobacco leaf overtones, ranging from intense hay to dry oak after heating. This Virginia-Burley duality is the very soul of the States and their typical blend: the American Blend. But this Monorigine is anything but a simple American Blend and that's thanks to the third ingredient: the legendary Perique Saint James, a very special fermented tobacco that, worldwide, is grown only in Saint James Parish, Louisiana. The Tobacco Truffle, as it is nicknamed, brings elegance, with notes of aromatic herbs (among which stand out notes of sage) and dried and slightly fermented fruits, which recall the smell of ripe apricot. In the end we find an interesting hint of cocoa which gives body and length to the vape.
USA is a complex concoction that will amaze even those who think they've tasted it all.
The Vaping Gentlemen Club U.S.A. is a tobacco extract. It does not require a steep.
The U.S.A., like the entire Monorigine range, is a classic liquid, called dirty, which can only be vaped on reconstructable material.
30ml of aromas in a 100ml bottle.
Dosage examples:
for 0mg of nicotine, add 70ml of base in 30pg/70vg
for 3mg of nicotine, add 1.5 nicotine booster 20mg in 30pg/70vg and 55ml base in 30pg/70vg
for 6mg of nicotine, add 3 nicotine boosters 20mg in 30pg/70vg and 40ml base in 30pg/70vg
for 9mg of nicotine, add 4.5 nicotine boosters 20mg in 30pg/70vg and 25ml base in 30pg/70vg
for 12mg of nicotine, add 6 nicotine boosters 20mg in 30pg/70vg and 10ml base in 30pg/70vg
---
Share this Product
---