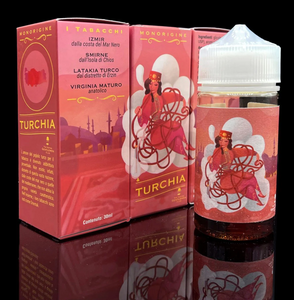 The Vaping Gentlemen Club
Turchia - Monorigine
Regular price
€18,90
€0,00
Unit price
per
Tax included.
Shipping
calculated at checkout.
Perhaps no country in the world produces as many varieties as Turkey. Enclosing this millennial world in an assembly is a very ambitious project.
From the first moments, the sweetness of Virginia Maturo is clearly noticeable, a name indicating a variety similar to Virginia Rosso. This sweetness allows, in the pursuit of the vape, to temper the extreme dryness of other tobaccos. Izmir, on the Black Sea coast, and Smyrna on the island of Chios, on the other hand, bring woody and robust scents, more delicate aromatic notes of dried fruits, coffee powder and warm spices on the other hand. go. These scents are always accompanied by a hint of humidity, earthy and acid, typically cigar that evokes the smells of undergrowth. The Turkish Latakia from the Erzin district finishes with a light smoke and adds body to the blend, blending the scents of the other tobaccos perfectly.
A blend that will put even the greatest connoisseurs to the test. It will not be easy to be able to distinguish the different tobaccos that compose it, creating an articulated and multifaceted flavor like a mosaic.
Turchia from The Vaping Gentlemen Club is a tobacco extract. It does not require a steep.
The Turchia, like the entire Monorigine range, is a classic liquid, called dirty, which can only be vaped on reconstructable material.
30ml of aromas in a 100ml bottle.
Dosage examples:
for 0mg of nicotine, add 70ml of base in 30pg/70vg
for 3mg of nicotine, add 1.5 nicotine booster 20mg in 30pg/70vg and 55ml base in 30pg/70vg
for 6mg of nicotine, add 3 nicotine boosters 20mg in 30pg/70vg and 40ml base in 30pg/70vg
for 9mg of nicotine, add 4.5 nicotine boosters 20mg in 30pg/70vg and 25ml base in 30pg/70vg
for 12mg of nicotine, add 6 nicotine boosters 20mg in 30pg/70vg and 10ml base in 30pg/70vg
---
Share this Product
---