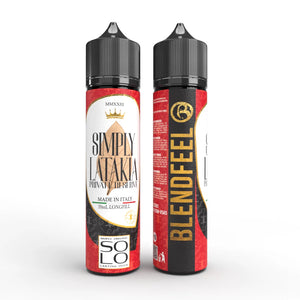 Blendfeel
Simply Latakia - Private Reserve - Solo
Regular price
€20,61
Sale price
€22,90
Unit price
per
Tax included.
Shipping
calculated at checkout.
The constant evolution of extraction procedures, the most advanced engineering and sophisticated systems have allowed Blendfeel to obtain very high quality clean extracts. Simply Latakia is the first product that Blendfeel says can challenge the best "old school" extracts.

Yes, we are talking about the old school, the one that in about 10 years has allowed thousands of enthusiasts to replace tobacco smoke with the vaporization of increasingly faithful and performing extracts and that has made Made in Italy recognizable in the whole world.

For Blendfeel, a qualitative breakthrough that we are proud to offer you.

The substantial point is not only to obtain exceptional organoleptic characteristics, but to have made the tobacco flavors usable organically in all vaping systems or as we like to say "coil friendly flavors" when we talk about the SOLO range.

Simply Latakia is a pure, fine, intense and full-bodied extract. An aroma that Latakia lovers can appreciate in all its nuances. Sweet on a bitter background, slightly spicy, smoky with some woody nuances.

A private reserve not to be missed.
20ml flavors in 60ml chubby gorilla bottle
Simply Latakia, like the entire Solo range from Blendfeel, is a tobacco distillate. It does not require a steep.
The Solo range from Blendfeel is a clean range, which can be vaped on any type of material, clearomisers and pods included.
Dosage examples:
for 0mg of nicotine, add 40ml of base in 30pg/70vg
for 3mg of nicotine, add 1 nicotine booster 20mg in 30pg/70vg and 30ml base in 30pg/70vg
for 6mg of nicotine, add 2 nicotine boosters 20mg in 30pg/70vg and 20ml base in 30pg/70vg
for 9mg of nicotine, add 3 nicotine boosters 20mg in 30pg/70vg and 10ml base in 30pg/70vg
for 12mg of nicotine, add 4 nicotine boosters 20mg in 30pg/70vg
---
Share this Product
---