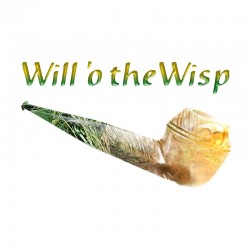 Azhad's Elixirs
SIGNATURE WILL 'O THE WISP 10 ML
Regular price
€7,02
Sale price
€7,80
Unit price
per
Tax included.
Shipping
calculated at checkout.
A blend of golden and red Virginia, with seven different types of tobacco to bind together and make it into a delicate aroma of tobacco for contemplation, vaping in an armchair at the end of the day trying to separate the different flavors that with each breath , change and transform.

Will 'O The Wisp, like the entire Signature range of Azhad's Elixirs is a tobacco macerate. It is advisable to let it steep for at least a month, and ideally 3 months.
Azhad's Elixirs Signature range is a "dirty" range, which can only be vaped on rebuildable material.
Contains 10ml of pure flavor in 100pg.
Recommended dilution between 10% and 12%.
Examples of dosage:
for 0mg of nicotine, add 90ml of base in 30pg/70vg
for 3mg of nicotine, add 1.5 nicotine booster 20mg in 30pg/70vg and 75ml base in 30pg/70vg
for 6mg of nicotine, add 3 nicotine boosters 20mg in 30pg/70vg and 60ml base in 30pg/70vg
for 9mg of nicotine, add 4.5 nicotine boosters 20mg in 30pg/70vg and 45ml base in 30pg/70vg
for 12mg of nicotine, add 6 nicotine boosters 20mg in 30pg/70vg and 30ml base in 30pg/70vg
for 15mg of nicotine, add 7.5 nicotine boosters 20mg in 30pg/70vg and 15ml base in 30pg/70vg
for 18mg of nicotine, add 9 nicotine boosters 20mg in 30pg/70vg
---
Share this Product
---