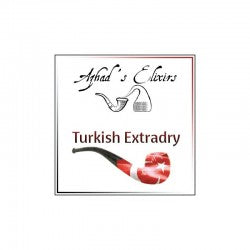 Azhad's Elixirs
SIGNATURE TURKISH EXTRADRY 10 ML
Regular price
€7,02
Sale price
€7,80
Unit price
per
Tax included.
Shipping
calculated at checkout.
A return to the past, to a time when quality mattered and not quantity, when we were proud of the tobacco on offer. In this spirit we went to look for these old leaves, from these few farmers who transmit from seed to seed the real Turkish tobacco, dry but full of flavor and nuances, which combined with a pinch of Burley finds the way to open in its complete aromatic palette, to offer you the authentic flavor of the old-fashioned blonde.

Turkish Extradry, like the entire Signature range of Azhad's Elixirs is a tobacco macerate. It is advisable to let it steep for at least a month, and ideally 3 months.
Azhad's Elixirs Signature range is a "dirty" range, only suitable for vaping on rebuildable material.
Contains 10ml of pure flavor in 100pg.
Recommended dilution between 10% and 12%.
Examples of dosage:
for 0mg of nicotine, add 90ml of base in 30pg/70vg
for 3mg of nicotine, add 1.5 nicotine booster 20mg in 30pg/70vg and 75ml base in 30pg/70vg
for 6mg of nicotine, add 3 nicotine boosters 20mg in 30pg/70vg and 60ml base in 30pg/70vg
for 9mg of nicotine, add 4.5 nicotine boosters 20mg in 30pg/70vg and 45ml base in 30pg/70vg
for 12mg of nicotine, add 6 nicotine boosters 20mg in 30pg/70vg and 30ml base in 30pg/70vg
for 15mg of nicotine, add 7.5 nicotine boosters 20mg in 30pg/70vg and 15ml base in 30pg/70vg
for 18mg of nicotine, add 9 nicotine boosters 20mg in 30pg/70vg
---
Share this Product
---