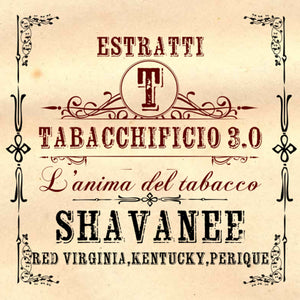 Tabacchificio 3.0
Shavanee - Blend
Regular price
€9,90
Sale price
€11,00
Unit price
per
Tax included.
Shipping
calculated at checkout.
The Virginia establishes the theme of this blend, while the Kentucky and Perique serve as variations that change throughout the duration of the vape. An incredible mixture with its own evolution and for this reason it does not tire and also lends itself to more meditative vapes.
Tabacchificio 3.0 Shavanee is a tobacco extract classic, otherwise called "dirty". It can only be vaped on reconstructable material. It does not require any particular steep.
Contains 20ml of pure flavor in 100pg.
Recommended dilution 20%
Dosage examples:
for 0mg of nicotine, add 80ml of base in 30pg/70vg
for 3mg of nicotine, add 1.5 nicotine booster 20mg in 30pg/70vg and 65ml base in 30pg/70vg
for 6mg of nicotine, add 3 nicotine boosters 20mg in 30pg/70vg and 50ml base in 30pg/70vg
for 9mg of nicotine, add 4.5 nicotine boosters 20mg in 30pg/70vg and 35ml base in 30pg/70vg
for 12mg of nicotine, add 6 nicotine boosters 20mg in 30pg/70vg and 20ml base in 30pg/70vg
for 15mg of nicotine, add 7.5 nicotine boosters 20mg in 30pg/70vg and 5ml base in 30pg/70vg
---
Share this Product
---