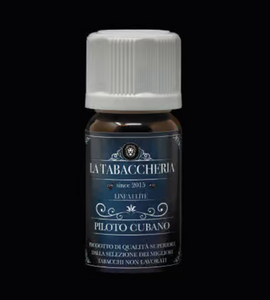 La Tabaccheria
Piloto Cubano - Linea Elite
Regular price
€10,71
Sale price
€11,90
Unit price
per
Tax included.
Shipping
calculated at checkout.
La Tabaccheria went in search of one of the best Cuban tobaccos: the Piloto Cubano!
The Piloto Cubano takes its name from the region of cultivation and is mainly used for the filling of the very famous cigars recognized as the best in the world and coveted in all four corners of the planet.

The leaves of the Cuban Piloto are air-dried and left to ferment, giving the aroma those unique flavors that only the quality of tobacco grown in that particular place can have.
The Cuban Piloto is also part of the Elite line of La Tabaccheria which guarantees quality and uniqueness of the extracted aroma.
Very pleasant aroma, discreet, delicate and appreciated like related cigars.

The Piloto Cubano, like the entire Linea Elite range from La Tabaccheria, is a classic aroma, called dirty, to be vaped only on reconstructable material. It does not require any particular steep.
Contains 10ml of pure flavor in 100pg.
Recommended dilution at 10%.
Dosage examples:
for 0mg of nicotine, add 90ml of base in 30pg/70vg
for 3mg of nicotine, add 1.5 nicotine booster 20mg in 30pg/70vg and 75ml base in 30pg/70vg
for 6mg of nicotine, add 3 nicotine boosters 20mg in 30pg/70vg and 60ml base in 30pg/70vg
for 9mg of nicotine, add 4.5 nicotine boosters 20mg in 30pg/70vg and 45ml base in 30pg/70vg
for 12mg of nicotine, add 6 nicotine boosters 20mg in 30pg/70vg and 30ml base in 30pg/70vg
for 15mg of nicotine, add 7.5 nicotine boosters 20mg in 30pg/70vg and 15ml base in 30pg/70vg
for 18mg of nicotine, add 9 nicotine boosters 20mg in 30pg/70vg


---
Share this Product
---