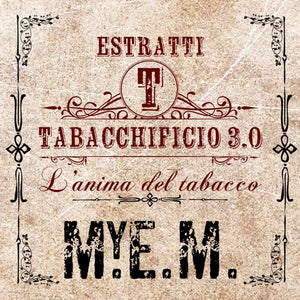 Tabacchificio 3.0
My MEM - Special Blend
Regular price
€12,00
€0,00
Unit price
per
Tax included.
Shipping
calculated at checkout.
(My Modern English Mixture)
The classic English blend is accentuated by delicate scents. Fresh and persistent aromas. Spices and subtle notes of wood. But also, in a refined balance, the rustic expression of Dominican tobacco. The sweetness of the smoke reveals the richness and character of this very personal reinterpretation.
Soft in the mouth and always pleasant.
An unexpected English mix.
Evocative. The spirit, free, opens onto other worlds. For some suggestions of sun-warmed skin and sea breeze, of lonely lands and unknown words, but also of hastily annotated notebooks and images stolen with the eyes in the narrow alleys of old quarters, the light of the imaginary discovers the face of the traveler and his romantic spirit. The soul of those who love adventure and encounters.
Tabacchificio 3.0 My MEM is a tobacco extract classic, otherwise called "dirty". It can only be vaped on reconstructable material. It does not require any particular steep.
Contains 20ml of pure flavor in 100pg.
Recommended dilution 20%
Dosage examples:
for 0mg of nicotine, add 80ml of base in 30pg/70vg
for 3mg of nicotine, add 1.5 nicotine booster 20mg in 30pg/70vg and 65ml base in 30pg/70vg
for 6mg of nicotine, add 3 nicotine boosters 20mg in 30pg/70vg and 50ml base in 30pg/70vg
for 9mg of nicotine, add 4.5 nicotine boosters 20mg in 30pg/70vg and 35ml base in 30pg/70vg
for 12mg of nicotine, add 6 nicotine boosters 20mg in 30pg/70vg and 20ml base in 30pg/70vg
for 15mg of nicotine, add 7.5 nicotine boosters 20mg in 30pg/70vg and 5ml base in 30pg/70vg
---
Share this Product
---