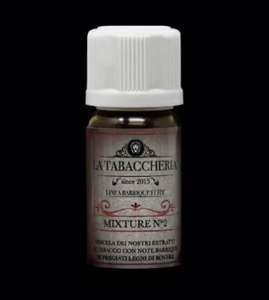 La Tabaccheria
Mixture n.2 - Linea Barrique Elite
Regular price
€11,61
Sale price
€12,90
Unit price
per
Tax included.
Shipping
calculated at checkout.
A new flavor of The tobacconist which best reproduces all the tastes and flavors of the best Cuban cigars.
An aroma that, for its excellence, deserves to carry the name of the company like its name.
Extracted from the tobacco leaves used for the creation of refined Cuban cigars, this aroma, having perfectly eliminated all the herbaceous facets,
releases all the best floral notes of the raw material and a masterfully added smoky sensation making it decidedly exceptional.
The Mixture n.2, like the entire Linea Barrique Elite range from La Tabaccheria, is a classic aroma, called dirty, to be vaped only on reconstructable material. It does not require any particular steep.
Contains 10ml of pure flavor in 100pg.
Recommended dilution at 10%.
Dosage examples:
for 0mg of nicotine, add 90ml of base in 30pg/70vg
for 3mg of nicotine, add 1.5 nicotine booster 20mg in 30pg/70vg and 75ml base in 30pg/70vg
for 6mg of nicotine, add 3 nicotine boosters 20mg in 30pg/70vg and 60ml base in 30pg/70vg
for 9mg of nicotine, add 4.5 nicotine boosters 20mg in 30pg/70vg and 45ml base in 30pg/70vg
for 12mg of nicotine, add 6 nicotine boosters 20mg in 30pg/70vg and 30ml base in 30pg/70vg
for 15mg of nicotine, add 7.5 nicotine boosters 20mg in 30pg/70vg and 15ml base in 30pg/70vg
for 18mg of nicotine, add 9 nicotine boosters 20mg in 30pg/70vg
---
Share this Product
---