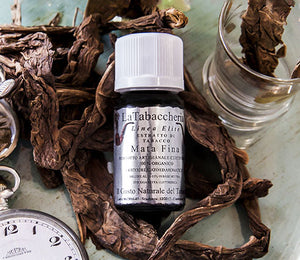 La Tabaccheria
Mata Fina 10ml
Regular price
€10,62
Sale price
€11,80
Unit price
per
Tax included.
Shipping
calculated at checkout.
Mata Fina is defined as the "first woman" of cigar tobacco, it is a premium tobacco produced in the state of Bahia in Brazil. It belongs to the "dark-air-cured" class and undergoes fermentation after which the leaves obtain a dark color and very marked aromatic characteristics.

The Mata Fina that we have selected is a sun-grown-wrapper, that is to say a tobacco grown in the sun. These tobaccos differ from shade leaf tobaccos precisely because growing in the sun allows these plants to produce a more pronounced aroma than those grown in the shade. In cigar production, the wrapper is defined as the outer leaf, the binding the binder, and the trim the garnish. Our extract, belonging to the Elite line, will be an inseparable companion for those looking for a really strong and at the same time delicate and sensual aroma, which will elegantly accompany you throughout the day.

Thinning: 5 to 15%
La Tabaccheria d'Orlando D'Alessandro was founded in 2015, after many years of testing and research on the production of tobacco extracts for electronic cigarettes, to be used diluted with e-liquids (neutral bases). Their extracts are handcrafted and "organic" (by "organic" we mean of plant origin without additional addition of artificial flavors); it is therefore plant flavors, extracted from unmanufactured tobacco leaves, therefore containing no artificial flavor.
---
Share this Product
---