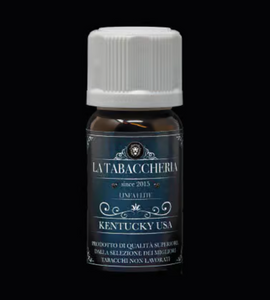 La Tabaccheria
Kentucky USA - Linea Elite
Regular price
€11,90
€0,00
Unit price
per
Tax included.
Shipping
calculated at checkout.
The Kentucky USA belongs to the elite lineage and differs from the previous Kentucky in its greater smoky flavor.
The Kentucky produced in Tennessee belongs to a type of fire-cured tobacco, which makes the tobacco and the respective aroma full of that welcome and appreciated smoky taste.
Very pleasant and particular taste that has given it the privilege of being part of the elite line of the tobacconist.

The Kentucky USA, like the entire Linea Elite range from La Tabaccheria, is a classic aroma, called dirty, to be vaped only on reconstructable material. It does not require any particular steep.
Contains 10ml of pure flavor in 100pg.
Recommended dilution at 10%.
Dosage examples:
for 0mg of nicotine, add 90ml of base in 30pg/70vg
for 3mg of nicotine, add 1.5 nicotine booster 20mg in 30pg/70vg and 75ml base in 30pg/70vg
for 6mg of nicotine, add 3 nicotine boosters 20mg in 30pg/70vg and 60ml base in 30pg/70vg
for 9mg of nicotine, add 4.5 nicotine boosters 20mg in 30pg/70vg and 45ml base in 30pg/70vg
for 12mg of nicotine, add 6 nicotine boosters 20mg in 30pg/70vg and 30ml base in 30pg/70vg
for 15mg of nicotine, add 7.5 nicotine boosters 20mg in 30pg/70vg and 15ml base in 30pg/70vg
for 18mg of nicotine, add 9 nicotine boosters 20mg in 30pg/70vg


---
Share this Product
---