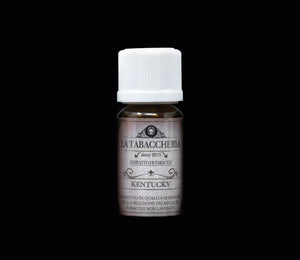 La Tabaccheria
Kentucky - Estratto di Tabacco
Regular price
€9,81
Sale price
€10,90
Unit price
per
Tax included.
Shipping
calculated at checkout.
An American name with an Italian heart, Kentucky tobacco is the only tobacco variety that brings to life the finest cigar of its kind in the world: the Tuscan cigar.
Its cultivation is for all intents and purposes a niche crop, around 1% of world tobacco production: in Italy it represents excellence in the agricultural sector. Kentucky is a tobacco belonging to the "fire-cured" class. The Kentucky tobacco extract stays true to the characteristics of these cigars.
Strong and decisive taste.

Kentucky, like the entire Estratto di Tabacco range from La Tabaccheria, is a classic, so-called dirty flavor, to be vaped only on reconstructable material. It does not require any particular steep.
Contains 10ml of pure flavor in 100pg.
Recommended dilution at 10%.
Dosage examples:
for 0mg of nicotine, add 90ml of base in 30pg/70vg
for 3mg of nicotine, add 1.5 nicotine booster 20mg in 30pg/70vg and 75ml base in 30pg/70vg
for 6mg of nicotine, add 3 nicotine boosters 20mg in 30pg/70vg and 60ml base in 30pg/70vg
for 9mg of nicotine, add 4.5 nicotine boosters 20mg in 30pg/70vg and 45ml base in 30pg/70vg
for 12mg of nicotine, add 6 nicotine boosters 20mg in 30pg/70vg and 30ml base in 30pg/70vg
for 15mg of nicotine, add 7.5 nicotine boosters 20mg in 30pg/70vg and 15ml base in 30pg/70vg
for 18mg of nicotine, add 9 nicotine boosters 20mg in 30pg/70vg
---
Share this Product
---