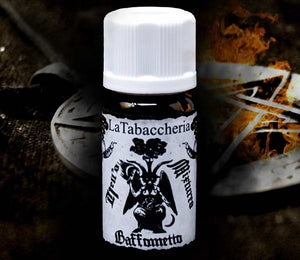 La Tabaccheria
Hell's Mixtures – Baffometto 10ml
Regular price
€9,80
€0,00
Unit price
per
Tax included.
Shipping
calculated at checkout.
An extremely captivating blend enhanced by the sweetness of fruit and spice. The three tobaccos involved in the blend, Virginia, Black Cavendish and Latakia, complement each other. The hay is backed by the sweetness, and both are enveloped by a smoky edge that will slowly take center stage in a finish that will sublimate that flavor. A modern American blend with a strong but at the same time very pleasant taste, which will please everyone.

Tobacco extract. It is not a food. Do not swallow. Do not use in its pure form. Dilute at 5-15% to flavor inhalation liquids (neutral bases) for electronic cigarettes (e-cig), electronic cigars (e-cigar) and electronic pipes (e-pipe).

Ingredients:

Propylene glycol USP/EP/E1520, tobacco extract.

Warning:

Read the label before use. It is not a food. Do not swallow. Do not use in its pure form. Dilute 5-15% with a neutral base for electronic cigarettes. This product requires no post-dilution maturation. It may contain unavoidable traces of nicotine resulting from the extraction process. Keep out of reach of children. IF SWALLOWED: If you feel unwell, contact a POISON CENTER or doctor. Dispose of product/container in accordance with national regulations. Store between 1°C and 40°C away from direct sunlight. Safety data sheet available on request. Information and safety data sheets are available on the website www.latabaccheria.net. PRODUCTS INTENDED SOLELY AND EXCLUSIVELY FOR END CONSUMERS. THE SALE OF TOBACCO PRODUCTS TO MINORS IS PROHIBITED.
La Tabaccheria d'Orlando D'Alessandro was founded in 2015, after many years of testing and research on the production of tobacco extracts for electronic cigarettes, to be used diluted with e-liquids (neutral bases). Their extracts are handcrafted and "organic" (by "organic" we mean of plant origin without additional addition of artificial flavors); it is therefore plant flavors, extracted from unmanufactured tobacco leaves, therefore containing no artificial flavor.
---
Share this Product
---