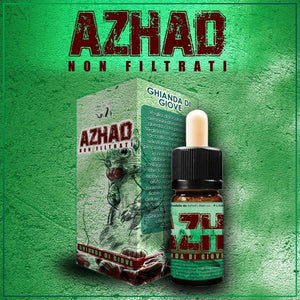 Azhad's Elixirs
Ghianda Di Giove - Non Filtrati
Regular price
€9,40
€0,00
Unit price
per
Tax included.
Shipping
calculated at checkout.
Longing for home and domestic harmony, it makes us think of the Virginia Tuscan late harvest that we have selected for this proposal. Wanting to stay on a magical note, we added chestnut and malt, flavors that are homemade. For the name, we asked the help of the Greeks and Latins, masters in the invention of fairy tales, and they did not disappoint us... as a squirrel is "the one who casts shadow with his tail", so is the "Acorn of Jupiter" which they called the chestnut. Slowly macerated for 24 months, this aroma is a masterpiece!
Ghianda di Giove, like the entire Non Filtrati range of Azhad's Elixirs, is a tobacco macerate. It is advisable to let it steep for at least a month, and ideally 3 months.
The Non Filtrati range of Azhad's Elixirs is a "dirty" range, which can only be vaped on reconstructable material.
Contains 10ml of pure flavor in 100pg.
Recommended dilution between 10% and 12%.
Examples of dosage:
for 0mg of nicotine, add 90ml of base in 30pg/70vg
for 3mg of nicotine, add 1.5 nicotine booster 20mg in 30pg/70vg and 75ml base in 30pg/70vg
for 6mg of nicotine, add 3 nicotine boosters 20mg in 30pg/70vg and 60ml base in 30pg/70vg
for 9mg of nicotine, add 4.5 nicotine boosters 20mg in 30pg/70vg and 45ml base in 30pg/70vg
for 12mg of nicotine, add 6 nicotine boosters 20mg in 30pg/70vg and 30ml base in 30pg/70vg
for 15mg of nicotine, add 7.5 nicotine boosters 20mg in 30pg/70vg and 15ml base in 30pg/70vg
for 18mg of nicotine, add 9 nicotine boosters 20mg in 30pg/70vg
---
Share this Product
---