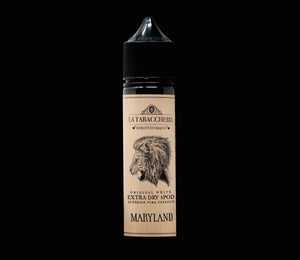 La Tabaccheria
Extra Dry 4Pod – Original White – Maryland 20ml
Regular price
€17,01
Sale price
€18,90
Unit price
per
Tax included.
Shipping
calculated at checkout.
Maryland is a typical American tobacco, a component that imparts superior qualities to cigarette blends that contain it.
It retains its characteristics of softness and mellowness while respecting the canons of dry, analogical and persistent taste typical of the Extra Dry line. Air-dried transparent sheet.
Concentrated aroma 20ml offered in the new 4Sixty format. The concentrated aromas offered with this format will consist of 20ml of aroma having an ideal concentration for dilution in a total of 60ml. For the dilution of this product, we suggest adding 4 vials of 10 ml of neutral base 60VG: 40PG to the 20 ml of aroma. Here are some examples of dilution to achieve the desired nicotine concentration:

Nicotine Zero: 4 bases of 10ml Nicotine Zero
Nicotine 3 mg/ml : 1 base de 10ml Nicotine 18 mg/ml + 3 bases de 10ml Nicotine Zéro
Nicotine 6 mg/ml : 2 bases de 10ml Nicotine 18 mg/ml + 2 bases de 10ml Nicotine Zéro
Nicotine 9 mg/ml : 3 bases de 10ml Nicotine 18 mg/ml + 1 bases de 10ml Nicotine Zéro
Nicotine 12 mg/ml : 4 bases de 10ml Nicotine 18 mg/ml
If you like a more pronounced taste, you can dilute the 20 ml of concentrated aroma in a total of 50 ml. 70VG: 30PG bases can also be used, emphasizing in any case that this product was designed for MTL or cheek vaping.

Ingredients :

Propylene glycol, tobacco extract.

Warnings:

Read the label before use. It is not a food. Do not swallow. Do not use as is. Dilute before use. The product does not require post-dilution maturation. It may contain unavoidable traces of nicotine from the extraction process. Keep out of reach of children. IF SWALLOWED: If you feel unwell, call a POISON CENTER or doctor. Dispose of product/container in accordance with national regulations. Store between 1°C and 40°C away from direct sunlight. PRODUCT INTENDED SOLELY AND EXCLUSIVELY FOR USE BY THE END CONSUMER. SALE PROHIBITED TO MINORS UNDER THE AGE OF 18.
La Tabaccheria d'Orlando D'Alessandro was founded in 2015, after many years of testing and research on the production of tobacco extracts for electronic cigarettes, to be used diluted with e-liquids (neutral bases). Their extracts are handcrafted and "organic" (by "organic" we mean of plant origin without additional addition of artificial flavors); it is therefore plant flavors, extracted from unmanufactured tobacco leaves, therefore containing no artificial flavor.
---
Share this Product
---