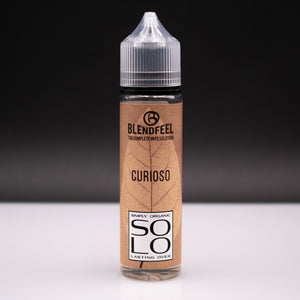 Blendfeel
Curious - Alone
Regular price
€17,70
€0,00
Unit price
per
Tax included.
Shipping
calculated at checkout.
We love bananas but even more tobacco...it had to happen, but it wasn't easy to connect the dots! Dare to imagine a friction of banana pulp massaged on beautiful Virginia leaves, left to ferment undisturbed... The sweetness of the banana melting into the woody and cordial notes of tobacco, a sweet, full-bodied, round and damn intriguing.....
From sheets of: Virginia, Burley
Aroma: banana, coconut, yogurt
20ml flavors in 60ml chubby gorilla bottle
Curioso, like the entire Solo range from Blendfeel, is a tobacco distillate. It does not require a steep.
The Solo range from Blendfeel is a clean range, which can be vaped on any type of material, clearomisers and pods included.
Examples of dosage:
for 0mg of nicotine, add 40ml of base in 30pg/70vg
for 3mg of nicotine, add 1 nicotine booster 20mg in 30pg/70vg and 30ml base in 30pg/70vg
for 6mg of nicotine, add 2 nicotine boosters 20mg in 30pg/70vg and 20ml base in 30pg/70vg
for 9mg of nicotine, add 3 nicotine boosters 20mg in 30pg/70vg and 10ml base in 30pg/70vg
for 12mg of nicotine, add 4 nicotine boosters 20mg in 30pg/70vg
---
Share this Product
---