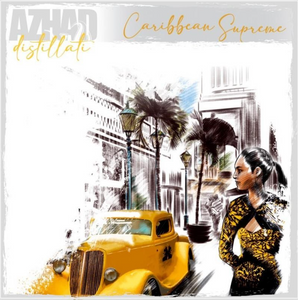 Azhad's Elixirs
Caribbean Supreme - Spirits
Regular price
€16,80
€0,00
Unit price
per
Tax included.
Shipping
calculated at checkout.
Azhad's Elixirs Caribbean Supreme is a blend of Black Cavendish and Virginia, loaded with woody notes, burnt caramel and aged rum-like licorice, which pair perfectly with chopped coconut, expanding the sweet palette and body , while tart pineapple tamed by a tuft of Latakia balances it all out, creating the apotheosis of flavors that's been with you for over a decade.
20ml flavors in 60ml chubby gorilla bottle
The Caribbean Supreme, like the entire Distillati range of Azhad's Elixirs is a tobacco distillate. It does not require a steep.
The Distillati range of Azhad's Elixirs is a clean range, which can be vaped on any type of material, clearomizers and pods included.
Example of dosage:
for 0mg of nicotine, add 40ml of base in 30pg/70vg
for 3mg of nicotine, add 1 nicotine booster 20mg in 30pg/70vg and 30ml base in 30pg/70vg
for 6mg of nicotine, add 2 nicotine boosters 20mg in 30pg/70vg and 20ml base in 30pg/70vg
for 9mg of nicotine, add 3 nicotine boosters 20mg in 30pg/70vg and 10ml base in 30pg/70vg
for 12mg of nicotine, add 4 nicotine boosters 20mg in 30pg/70vg
---
Share this Product
---