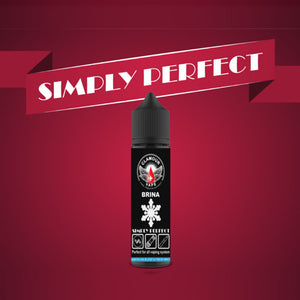 Clamour Vape
Brina - Simply Perfect
Regular price
€15,03
Sale price
€16,70
Unit price
per
Tax included.
Shipping
calculated at checkout.
When the best blend of traditional American tobaccos meets all the natural freshness of real mint, Brina is born, the fresh, flavorful and tireless Simply Perfect. One vape after another, you will encounter the pleasure of an American blend expertly blended and made fresh by the balsamic and herbaceous notes of the finest peppermint. With Brina, a sweet thrill will shake you.
Does not contain ice flavoring. Only natural extract of real peppermint.

The Brina like the whole Simply Perfect range of Clamor Vape is a tobacco hydrosol. It does not require a steep.
The Simply Perfect range from Clamor Vape is a clean range, which can be vaped on any type of material, clearomisers and pods included.
Dosage examples:
for 0mg of nicotine, add 40ml of base in 30pg/70vg
for 3mg of nicotine, add 1 nicotine booster 20mg in 30pg/70vg and 30ml base in 30pg/70vg
for 6mg of nicotine, add 2 nicotine boosters 20mg in 30pg/70vg and 20ml base in 30pg/70vg
for 9mg of nicotine, add 3 nicotine boosters 20mg in 30pg/70vg and 10ml base in 30pg/70vg
for 12mg of nicotine, add 4 nicotine boosters 20mg in 30pg/70vg
---
Share this Product
---