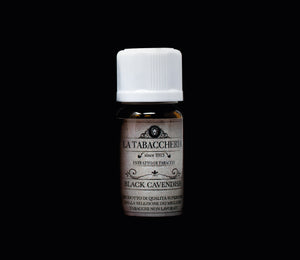 La Tabaccheria
Black Cavendish - Estratto di Tabacco
Regular price
€9,81
Sale price
€10,90
Unit price
per
Tax included.
Shipping
calculated at checkout.
Black Cavendish is not a true variety of tobacco but an additional curing method applied to a blend of raw tobaccos. More commonly, Virginia and/or Burley are used. The method involves subjecting the tobacco to "flavoring" or subjecting it to strong pressure, facilitating the release of natural sugars. The Black Cavendish tobacco extract is a perfect harmony of aromas, between slightly sweet and dry, a balance so perfect that it is impossible to establish a precise location and this is its greatest strength. Dry and aromatic taste.

The Black Cavendish, like the entire Estratto di Tabacco range from La Tabaccheria, is a classic aroma, called dirty, to be vaped only on reconstructable material. It does not require any particular steep.
Contains 10ml of pure flavor in 100pg.
Recommended dilution at 10%.
Dosage examples:
for 0mg of nicotine, add 90ml of base in 30pg/70vg
for 3mg of nicotine, add 1.5 nicotine booster 20mg in 30pg/70vg and 75ml base in 30pg/70vg
for 6mg of nicotine, add 3 nicotine boosters 20mg in 30pg/70vg and 60ml base in 30pg/70vg
for 9mg of nicotine, add 4.5 nicotine boosters 20mg in 30pg/70vg and 45ml base in 30pg/70vg
for 12mg of nicotine, add 6 nicotine boosters 20mg in 30pg/70vg and 30ml base in 30pg/70vg
for 15mg of nicotine, add 7.5 nicotine boosters 20mg in 30pg/70vg and 15ml base in 30pg/70vg
for 18mg of nicotine, add 9 nicotine boosters 20mg in 30pg/70vg


---
Share this Product
---