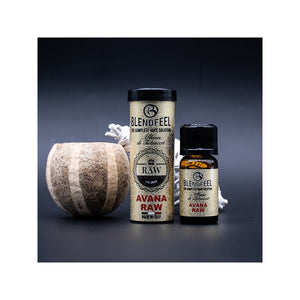 Blendfeel
Avana Raw – Raw
Regular price
€9,72
Sale price
€10,80
Unit price
per
Tax included.
Shipping
calculated at checkout.
From the new continent, the first explorers brought the large and bright leaves of Habanos to old Europe, making it a legend and an object of worship everywhere.
The most difficult stage of the crossing in the boundless sea of tobacco is an island where the pass is the suspension of disbelief. A landing told only by the most daring who have ventured there, where to find authentic distilled wonders. Here the rarest and most precious tobaccos and blends mingle as if by magic with impossible extracts: dark beer, double malt beer, bourbon whiskey and... imagination. Fantastic unexpected events and where to find them.
Blendfeel's Avana Raw is a tobacco extract Classic, otherwise called "dirty". It can only be vaped on reconstructable material. It does not require any particular steep.
Contains 10ml of pure flavor in 100pg.
Recommended dilution 10%
Examples of dosage:
for 0mg of nicotine, add 90ml of base in 30pg/70vg
for 3mg of nicotine, add 1.5 nicotine booster 20mg in 30pg/70vg and 75ml base in 30pg/70vg
for 6mg of nicotine, add 3 nicotine boosters 20mg in 30pg/70vg and 60ml base in 30pg/70vg
for 9mg of nicotine, add 4.5 nicotine boosters 20mg in 30pg/70vg and 45ml base in 30pg/70vg
for 12mg of nicotine, add 6 nicotine boosters 20mg in 30pg/70vg and 30ml base in 30pg/70vg
for 15mg of nicotine, add 7.5 nicotine boosters 20mg in 30pg/70vg and 15ml base in 30pg/70vg
for 18mg of nicotine, add 9 nicotine boosters 20mg in 30pg/70vg
---
Share this Product
---