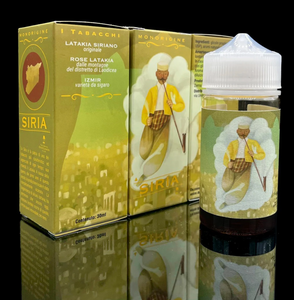 The Vaping Gentlemen Club
Syria - Monorigine
Regular price
€17,01
Sale price
€18,90
Unit price
per
Tax included.
Shipping
calculated at checkout.
Is it possible to lock the 10,000-year-old history of a country like Syria into an aroma? Is it possible to capture the essence of a territory that has characterized the world of tobacco in such a radical way without diminishing certain aspects?
The Vaping Gentlemen Club tried it out by creating a blend of three rare and extraordinary tobaccos, which meld into an absolute tasting aroma. An experience for connoisseurs that has few comparisons in our entire catalog.
Syria is a mixture as dry as the desert and as elegant as the dance of the seven veils.
TVGC chose a variety from Izmir whose leaves are used by locals as a wrapper for cigars and gave it an unexpected starring role. With its full and balanced body, it expresses its deep dry vegetable flavor, with warm notes of dried fruit and a slight hint of bitterness. It's the taste of something left to dry in the sun for months, maybe years, until it encapsulates the very soul of this desert region.
The Original Syrian Latakia, the now untraceable king of this land, and the rare Rose Latakia, a mild highland-grown and half-smoked refined variety, blend together completely and naturally and form the backdrop of Izmir, him giving depth to the unexpected exhalation, a memory of oriental spices and sweet resins, barely sketched, like little oases in the sun-dried desert. Finally, the two Latakia, like a light veil, envelop the whole thing in a smoky present but never covering which, on the contrary, combines, without ever hiding them, the infinite aromatic hints of this absolute condensed Syrian tobacco.
Syria by The Vaping Gentlemen Club is a tobacco extract. It does not require a steep.
The Syria, like the whole Monorigine range, is a classic liquid, called dirty, which can only be vaped on reconstructable material.
30ml of aromas in a 100ml bottle.
Dosage examples:
for 0mg of nicotine, add 70ml of base in 30pg/70vg
for 3mg of nicotine, add 1.5 nicotine booster 20mg in 30pg/70vg and 55ml base in 30pg/70vg
for 6mg of nicotine, add 3 nicotine boosters 20mg in 30pg/70vg and 40ml base in 30pg/70vg
for 9mg of nicotine, add 4.5 nicotine boosters 20mg in 30pg/70vg and 25ml base in 30pg/70vg
for 12mg of nicotine, add 6 nicotine boosters 20mg in 30pg/70vg and 10ml base in 30pg/70vg
---
Share this Product
---