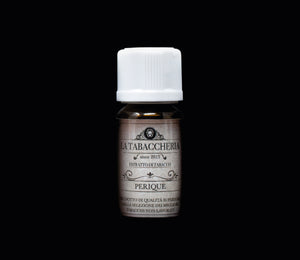 La Tabaccheria
Perique - Estratto di Tabacco
Regular price
€9,81
Sale price
€10,90
Unit price
per
Tax included.
Shipping
calculated at checkout.
Perique is a type of tobacco native to Saint James Parish, Louisiana, known for its strong aroma. By the time the Acadians arrived in the region in 1776, the Choctaw and Chickasaw tribes were already growing this variety of tobacco. Perique is defined as the "tobacco truffle": it is the most expensive, both because of the very long and laborious manufacturing and fermentation process, and because today it only grows in a restricted area south of New Orleans. It is used very little (up to 5%) in mixtures, as if it were a precious spice. Perique tobacco extract retains all the valuable characteristics of this fantastic tobacco. Intense and fruity taste.

The Perique, like the entire Estratto di Tabacco range from La Tabaccheria, is a classic aroma, called dirty, to be vaped only on reconstructable material. It does not require any particular steep.
Contains 10ml of pure flavor in 100pg.
Recommended dilution at 10%.
Dosage examples:
for 0mg of nicotine, add 90ml of base in 30pg/70vg
for 3mg of nicotine, add 1.5 nicotine booster 20mg in 30pg/70vg and 75ml base in 30pg/70vg
for 6mg of nicotine, add 3 nicotine boosters 20mg in 30pg/70vg and 60ml base in 30pg/70vg
for 9mg of nicotine, add 4.5 nicotine boosters 20mg in 30pg/70vg and 45ml base in 30pg/70vg
for 12mg of nicotine, add 6 nicotine boosters 20mg in 30pg/70vg and 30ml base in 30pg/70vg
for 15mg of nicotine, add 7.5 nicotine boosters 20mg in 30pg/70vg and 15ml base in 30pg/70vg
for 18mg of nicotine, add 9 nicotine boosters 20mg in 30pg/70vg
---
Share this Product
---