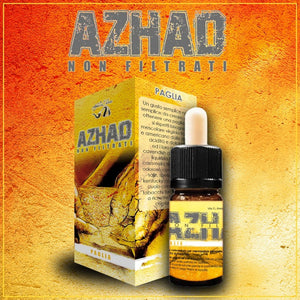 Azhad's Elixirs
Paglia - Non Filtrati
Regular price
€9,40
€0,00
Unit price
per
Tax included.
Shipping
calculated at checkout.
A simple taste is not easy to create, and to achieve a respectable straw, one must mix Virginia Italiano and Americano with different acidity and sweetness, and their respective Cavendish with the aroma of roasted licorice with browned caramel, Burley fragrant like pastures in the sun, thick Kentucky leaves like old leather, with Turkish tobaccos and Latakia to seek out the aroma of combustion. Slowly macerated for 24 months, this aroma is a masterpiece!
Paglia, like the entire Non Filtrati range of Azhad's Elixirs, is a tobacco macerate. It is advisable to let it steep for at least a month, and ideally 3 months.
The Non Filtrati range of Azhad's Elixirs is a "dirty" range, which can only be vaped on reconstructable material.
Contains 10ml of pure flavor in 100pg.
Recommended dilution between 10% and 12%.
Examples of dosage:
for 0mg of nicotine, add 90ml of base in 30pg/70vg
for 3mg of nicotine, add 1.5 nicotine booster 20mg in 30pg/70vg and 75ml base in 30pg/70vg
for 6mg of nicotine, add 3 nicotine boosters 20mg in 30pg/70vg and 60ml base in 30pg/70vg
for 9mg of nicotine, add 4.5 nicotine boosters 20mg in 30pg/70vg and 45ml base in 30pg/70vg
for 12mg of nicotine, add 6 nicotine boosters 20mg in 30pg/70vg and 30ml base in 30pg/70vg
for 15mg of nicotine, add 7.5 nicotine boosters 20mg in 30pg/70vg and 15ml base in 30pg/70vg
for 18mg of nicotine, add 9 nicotine boosters 20mg in 30pg/70vg
---
Share this Product
---