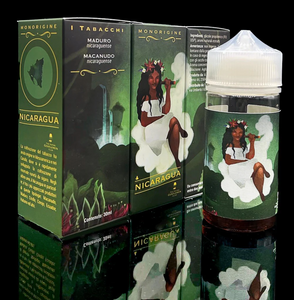 The Vaping Gentlemen Club
Nicaragua - Monorigine
Regular price
€18,90
€0,00
Unit price
per
Tax included.
Shipping
calculated at checkout.
Nicaragua has become, thanks to the absolute excellence of its plantations, one of the most appreciated tobacco producers in the Caribbean.

To put it bluntly, we've chosen two of the finest and most sought-after qualities of cigars in existence.

It is difficult to define where the contribution of Maduro and that of Macanudo stops, but at first glance Nicaragua gives intense and soft feelings of wood, leather and chocolate, common to the two cultivars of tobacco used. A tropical journey between vegetal scents both dry and sweet that give a warm and enveloping vape. The contribution of the Macanudo is certainly very marked with regard to the obvious spiciness: the aroma of pepper is easily perceptible from the start.

On the exhale, woody notes and a slight hint of earth, never too overwhelming, still prevail.

As it warms up further, roundness and sweetness increase and hints of cinnamon and coffee are added, the latter especially on the exhale.

The Nicaragua is a blend of cigars that will amaze you with its extraordinary intensity, decidedly unusual in macerations of these types of leaves.
Nicaragua from The Vaping Gentlemen Club is a tobacco extract. It does not require a steep.
The Nicaragua, like the entire Monorigine range, is a classic liquid, called dirty, which can only be vaped on reconstructable material.
30ml of aromas in a 100ml bottle.
Dosage examples:
for 0mg of nicotine, add 70ml of base in 30pg/70vg
for 3mg of nicotine, add 1.5 nicotine booster 20mg in 30pg/70vg and 55ml base in 30pg/70vg
for 6mg of nicotine, add 3 nicotine boosters 20mg in 30pg/70vg and 40ml base in 30pg/70vg
for 9mg of nicotine, add 4.5 nicotine boosters 20mg in 30pg/70vg and 25ml base in 30pg/70vg
for 12mg of nicotine, add 6 nicotine boosters 20mg in 30pg/70vg and 10ml base in 30pg/70vg
---
Share this Product
---