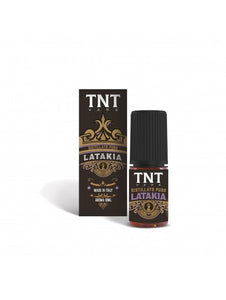 TNT
Latakia - Distillato Puro
Regular price
€11,25
Sale price
€12,50
Unit price
per
Tax included.
Shipping
calculated at checkout.
As the poet Brecht said, "Intelligence does not consist in not making mistakes, but in immediately discovering how to take advantage of them" and the story of this tobacco loved all over the world begins precisely with a mistake.

In ancient times, unsold tobacco was stored in peasant houses suspended from the ceiling. The fireplace that heated the house, remaining always lit, created the first involuntary system of "drying by fire" in history.

The same system that is still used today to create the most robust, ashy, intense and smoky tobacco ever seen by man. Latakia is a black diamond which, used in its purity, gives strong and full flavors without compromise. The only one capable of marrying intense aromas like that of a ristretto coffee or a good peated Scotch whisky, without fear of being diminished.
The ORGANICO DISTILLATO PURO, unlike the classic organic, allows you to vape up to 120ml of product without having to replace the coils, cottons or heads!

Shake well once mixed, a few days of maturation advised (2-7).

Recommended dilution: 10-15%
Examples of dosage:
for 0mg of nicotine, add 90ml of base in 30pg/70vg
for 3mg of nicotine, add 1.5 nicotine booster 20mg in 30pg/70vg and 75ml base in 30pg/70vg
for 6mg of nicotine, add 3 nicotine boosters 20mg in 30pg/70vg and 60ml base in 30pg/70vg
for 9mg of nicotine, add 4.5 nicotine boosters 20mg in 30pg/70vg and 45ml base in 30pg/70vg
for 12mg of nicotine, add 6 nicotine boosters 20mg in 30pg/70vg and 30ml base in 30pg/70vg
for 15mg of nicotine, add 7.5 nicotine boosters 20mg in 30pg/70vg and 15ml base in 30pg/70vg
for 18mg of nicotine, add 9 nicotine boosters 20mg in 30pg/70vg
---
Share this Product
---