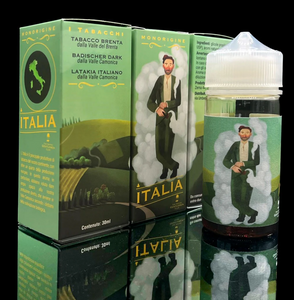 The Vaping Gentlemen Club
Italia - Monorigine
Regular price
€17,01
Sale price
€18,90
Unit price
per
Tax included.
Shipping
calculated at checkout.
The complexity of a country like Italy could not fail to lead The Vaping Gentlemen Club to create an equally complex mixture, which had the ambition to tell our beautiful country and its particular varieties of tobacco.
Brenta tobacco, an autochthonous variety of the homonymous valley from the havanensis strain, has always been a classic of TVGC production. In this mixture it expresses all its complexity: in inspiration we find obvious notes of hazelnut and dried fruits. On the exhale, notes of leather and dark wood are perceived, thanks also to the intervention of Badischer Dark Air Cured, a black cigar tobacco originating from Alsace which has also found its way to TVGC. Finally, the Italian Latakia, an excellence of the Scolari company which was the first to think of growing and refining Latakia tobacco from original seeds in the Valle Camonica. In this blend it is used as a light accompaniment so that its majestic smoke does not overpower the other tobaccos, but rather enhances the darker aspects which are however balanced by the smooth sweetness of the Brenta.
Italia is a deep and aromatic blend that we allow ourselves to define as absolutely unique in its kind.
The Vaping Gentlemen Club Italia is a tobacco extract. It does not require a steep.
The Italia, like the entire Monorigine range, is a classic liquid, called dirty, which can only be vaped on reconstructable material.
30ml of aromas in a 100ml bottle.
Dosage examples:
for 0mg of nicotine, add 70ml of base in 30pg/70vg
for 3mg of nicotine, add 1.5 nicotine booster 20mg in 30pg/70vg and 55ml base in 30pg/70vg
for 6mg of nicotine, add 3 nicotine boosters 20mg in 30pg/70vg and 40ml base in 30pg/70vg
for 9mg of nicotine, add 4.5 nicotine boosters 20mg in 30pg/70vg and 25ml base in 30pg/70vg
for 12mg of nicotine, add 6 nicotine boosters 20mg in 30pg/70vg and 10ml base in 30pg/70vg
---
Share this Product
---