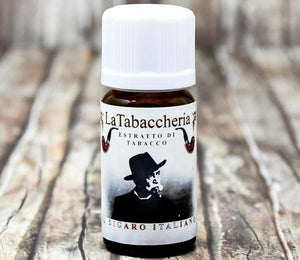 La Tabaccheria
Il Sigaro Italiano 10ml
Regular price
€9,72
Sale price
€10,80
Unit price
per
Tax included.
Shipping
calculated at checkout.
Executing our Kentucky in one of the highest expressions of what is perhaps the most popular cigar: Il Sigaro Italiano.
The definitive sensation of a roll of tobacco with "modern" looks, a concentrated extract for electronic cigarettes.
Without a doubt, we are on the planet Kentucky, without any compromise.
The roughness of the tobacco is the protagonist: woody, smoky, stable, earthy. With each vape, it almost feels like being in a rural landscape, in the hills of Tuscany.
Its strong and distinct taste will be appreciated by those who love this tobacco.

Tobacco extract. It is not a food. Do not swallow. Do not use as is. Use in 5-15% dilution to flavor inhalation fluids (neutral bases) for electronic cigarettes (ECig), electronic cigars (ECigar), electronic pipes (EPipe).

Ingredients:

Propylene glycol USP/EP/E1520, tobacco extract.

Warning:

Read the label before use. It is not a food. Do not swallow. Do not use as is. Dilute 5-15% in neutral for electronic cigarette. The product does not require post-dilution maturation. May contain unavoidable traces of nicotine from the extraction process. Keep out of reach of children. IF SWALLOWED: Call a POISON CENTER or doctor if you feel unwell. Dispose of product/container in accordance with national regulations. Store between 1°C and 40°C away from direct sunlight. Safety data sheet available on request. Information notice and safety data sheet on the website www.latabaccheria.net. PRODUCT INTENDED FOR USE BY THE END CONSUMER ONLY. SALE PROHIBITED TO MINORS UNDER 18.
La Tabaccheria d'Orlando D'Alessandro was founded in 2015, after many years of testing and research on the production of tobacco extracts for electronic cigarettes, to be used diluted with e-liquids (neutral bases). Their extracts are handcrafted and "organic" (by "organic" we mean of plant origin without additional addition of artificial flavors); it is therefore plant flavors, extracted from unmanufactured tobacco leaves, therefore containing no artificial flavor.
---
Share this Product
---