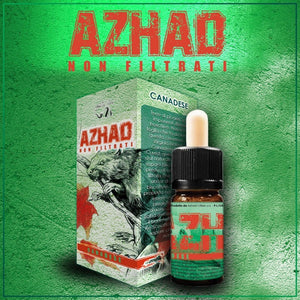 Azhad's Elixirs
Canadese - Non Filtrati
Regular price
€8,46
Sale price
€9,40
Unit price
per
Tax included.
Shipping
calculated at checkout.
Lands of pioneers, and imposing forest expanses. The leaf that serves as the bed for this creation was born there: an organic Canadian Virginia Dark-Air Cured, this tobacco with a natural and sweet biscuity flavor lends itself well to an unfiltered extraction which sharpens its biscuity notes even more. In our proposal, it could not fail to be associated with a precious maple syrup... if ever a fairy tale had imagined the wedding banquet of King Squirrel, it is the flavor that would have told it. Slowly macerated for 24 months, this aroma is a masterpiece!
The Canadese, like the entire Non Filtrati range of Azhad's Elixirs is a tobacco macerate. It is advisable to let it steep for at least a month, and ideally 3 months.
The Non Filtrati range of Azhad's Elixirs is a "dirty" range, which can only be vaped on reconstructable material.
Contains 10ml of pure flavor in 100pg.
Recommended dilution between 10% and 12%.
Examples of dosage:
for 0mg of nicotine, add 90ml of base in 30pg/70vg
for 3mg of nicotine, add 1.5 nicotine booster 20mg in 30pg/70vg and 75ml base in 30pg/70vg
for 6mg of nicotine, add 3 nicotine boosters 20mg in 30pg/70vg and 60ml base in 30pg/70vg
for 9mg of nicotine, add 4.5 nicotine boosters 20mg in 30pg/70vg and 45ml base in 30pg/70vg
for 12mg of nicotine, add 6 nicotine boosters 20mg in 30pg/70vg and 30ml base in 30pg/70vg
for 15mg of nicotine, add 7.5 nicotine boosters 20mg in 30pg/70vg and 15ml base in 30pg/70vg
for 18mg of nicotine, add 9 nicotine boosters 20mg in 30pg/70vg
---
Share this Product
---